In-Office Procedures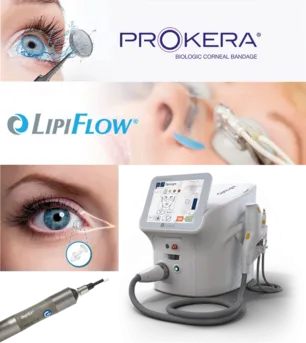 At Michiana Eye Center, we use a variety of methods, depending on symptoms and severity, to offer you lasting relief from your dry eye symptoms. From LipiFlow thermal pulsation and BlephEx® lid debridement to PROKERA® amniotic membrane placements and Intense Pulsed Light, our doctors use the most advanced treatments for your symptoms.
- PROKERA
- LipiFlow

- BlephEx
---
At-Home Treatments
At- home treatment options are available at all Michiana Eye Center locations. These products have been proven to be safe and effective. Your doctor may use these on their own, or in tandem with each other. Some are only available by prescription.

- HydroEye
---
Your relief starts with a phone call. Contact of our offices for questions regarding our treatment options, or to schedule a dry eye appointment. Too busy to call? Schedule conveniently online through the NextMD patient portal.