Ultra-Widefield Fundus Imaging: An Alternative to Dilation

Michiana Eye Center now offers ultra-widefield fundus imaging as an alternative to eye dilation.
Signs of ocular diseases are often subtle, occuring in the far periphery of the retina, typically outside the limited 45-degree field of view of an undilated eye. Widefield fundus imaging offers full-color, 200-degree views of the the back surface of the eye.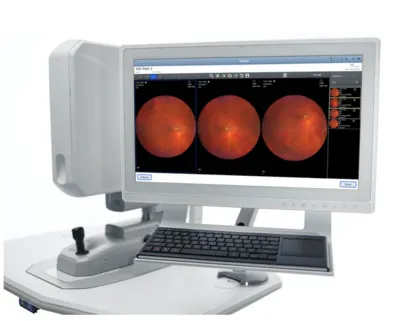 Unlike dilation, patients who choose to have fundus imaging as a part of their retinal examination will have a permanent retinal image for their medical record that can be used for future comparison. Since ultra-widefield fundus imaging eliminates the need for dilation drops, patients will not experience the discomfort of light sensitivity and blurry near-vision associated with pupil dilation.
Candidates for widefield fundus imaging are patients scheduled for a routine vision examination who have no systemic or autoimmune diseases, and no history of ocular diseases or retinal abnormalities.
Ultra-Widefield Fundus imaging is available at our Mishawaka and Plymouth locations for $35. For more information, or to schedule an appointment, please contact our office at (574) 271-3939.