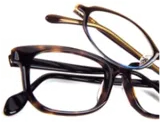 Technological advances in material application and manufacturing techniques have allowed an unprecedented variety of frame variations available today.
Frame Materials & Benefits:
Titanium:
Non-corrosive
Maximum comfort
Multiple color treatments
Resistant to perspiration acidity
Flexon™ Proprietary Titanium Alloy:
Increased breakage protection
Flexibility
Stainless Steel:
Non-corrosive
Durable
Hypoallergenic
Resistant to perspiration acidity
Zyl/Plastic: can be melted, molded & stamped for manufacturing. This very versatile material is a perfect choice for:
Moldable for optimized temple comfort
Variety of color options
Won't wear or peel
Monel/Metal::
Nickel-silver alloy
Must be plated and sealed
Low cost
Versatility
Frame Styles:
Frames can be classified by style, and are available in numerous material combinations:
Full Frame:
Lenses are completely enclosed by the frame eyewire
The most common frame style with the widest variety of colors and brand selection
Semi-Rimless Frame:

Only a portion (usually 1/2) of the frame is enclosed by the frame eyewire
Commonly constructed with metal and clear filament.
Rimless/Drill-Mount Frame::
Virtually no portion of the frame is enclosed by the frame eyewire
Frame chassis is held together by holes drilled into the lenses which are then secured by bushings and chassis posts
Due to their special construction, the design is not commonly available in all brands