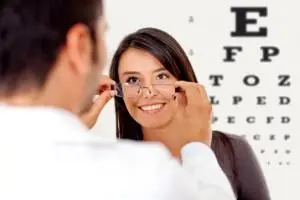 At Michiana Eye Center, we provide comprehensive eye care service for patients of all ages. Our doctors understand that your vision needs change as you age. That's why our personalized, state-of-the-art vision care includes:
●Eye Exams
●Diagnostic Testing: glaucoma, cataracts, macular degeneration, and dry eye
●On-site Eyeglasses Laboratory
●Contact Lenses and Fittings
Keep in mind that a visual screening is not the same as a comprehensive eye exam. While a visual screening can be beneficial for identifying some vision abnormalities, such as nearsightedness and farsightedness, an eye exam at Michiana Eye Center is far more comprehensive. This exam will include a check for eye diseases like glaucoma and macular degeneration, and also include tests that measure refractive errors, verify current contact and eyeglass prescriptions, and assess visual acuity. We offer retinoscopy, tonometry and biomicroscopy examinations, depending on your eye health needs.
As part of our comprehensive eye care services, we also help patients who suffer from digital eye strain (DES). We can offer solutions to treat the symptoms of DES, including headaches, dry eyes, and blurred vision.
As you age, you may experience new vision challenges. If you have been diagnosed with presbyopia and need visual correction for seeing up close and in the intermediate distance, we offer many new bifocal and trifocal lens options, custom-made at our Mishawaka laboratory. For more information on lens options, visit our Lenses and Treatments page.
If you have not had an eye exam within the last year, call 574-271-3939 to schedule your exam today!