At Michiana Eye Center, we provide complete eye care for your whole family, including young children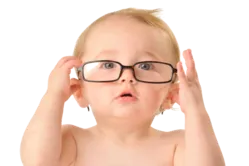 Eye health and vision for children can prove especially problematic for parents, as a child may not realize that their vision is abnormal. Many times, a parent may recognize the symptoms of vision difficulty before a child, since children are less likely to notice errors if it is the only way they have every viewed the world. Vision is very important for the development and education of a child. Since as your child grows and develops so will their vision, it is up to the attentive parent to notice the signs of a vision problem, and follow up with a visit to the eye doctor for a children's eye exam.
Warning Signs and Risks for Vision Problems in Children
Squinting
Closing or covering one eye
Constantly holding materials close to the face
Tilting the head to one side
Rubbing eyes repeatedly
One or both eyes turn in or out
Redness or tearing in eyes
Premature birth
Developmental delays
Family history of "lazy eye" or "thick glasses"
A disease that affects the whole body (such as diabetes, sickel cell or HIV)
If you notice any of these symptoms, make sure your child sees us for a comprehensive children's eye exam. Keep in mind that not all children's vision problems can be diagnosed by you or a school nurse; only an eye doctor has the training and equipment to properly diagnose.
Newborns
Your baby's eyes will be checked at birth and during well-baby visits throughout the first year. All babies should receive an infant's eye exam. Babies usually see movement before anything else. Full-term babies should be able to see their mother's facial expression within a week of birth. Color vision and depth perception aren't yet fully developed and eye muscle coordination is also very immature. Babies often have eyes that are turned in, turned out or not working as a team, a condition known as strabismus. If this problem doesn't resolve itself by the age of three or four months, consult us for a special exam.
Preschool
From ages 3 to 6, your child will be fine-tuning the vision already developed during the infant and toddler years. Older preschoolers are learning how to use sports equipment and working on the fine motor skills needed to write their names. Watch for the warning signs of children's vision problems, such as sitting too close to the TV or holding a book too close, squinting, head tilting, eye rubbing and sensitivity to light. Farsightedness and strabismus are common problems with this age group. However, some problems might not have a sign; only an eye doctor can tell.
If your child exhibits no symptoms of a vision problem, he should have a children's eye exam by the age of 3. Having a complete children's eye exam even before the child enters school allows enough time to catch and correct any problems while the visual system is still flexible.
If your pre-schooler needs glasses, make sure your child understands why. Explain that he/she needs glasses to see clearly, and give specific examples of the benefits, such as that he'll be able to see the words in his books better or will be able to play catch with his brother because he can now see the ball.
School Age Children
School-age children should receive a children's eye exam before entering kindergarten and regularly after that if they have no visual problems. If your child requires glasses or contact lenses for refractive errors, schedule visits every 12 months.
A vision screening performed by your pediatrician or the school nurse is not a complete eye exam. These vision screenings are designed to alert parents to the possibility of a vision problem and do not take the place of a visit to see us. Studies even show that these vision screenings may miss sight-threatening eye conditions.
If a visual dysfunction is part of your child's learning difficulty, special lenses or vision therapy may help. Should your child's visual function not be an issue, ask your eye care practitioner for referrals to the appropriate specialists. Visit your family doctor or pediatrician as well for more information on diagnosing your child.
Amblyopia
An eye condition, commonly missed with a vision screening, is ambloypia. Amblyopia, also known as lazy eye, is a vision problem that affects just two to three percent of the population, but if left uncorrected, it can have a very big impact on their lives. Central vision does not develop properly, usually in one eye, which is called amblyopic.
Untreated amblyopia may lead to functional blindness in the affected eye. Although the amblyopic eye has the capability to see, the brain "turns off" this eye because vision is very blurred. The brain elects to see only with the stronger eye.
Amblyopia generally develops in young children, before age six. Symptoms of amblyopia are often noted by parents, caregivers or health-care professionals. If a child squints or completely closes one eye to see, he or she may have amblyopia. Other signs of amblyopia include overall poor visual acuity, eyestrain and headaches.
Children with amblyopia can be treated with patching one eye, atropine eye drops, the correct prescription for nearsightedness or farsightedness, or surgery.
If you notice any vision problems with your child, make sure he or she sees an eye doctor for a comprehensive children's eye exam. Keep in mind that not all problems can be diagnosed by you or a school nurse; only an eye doctor has the training and equipment to properly diagnose.