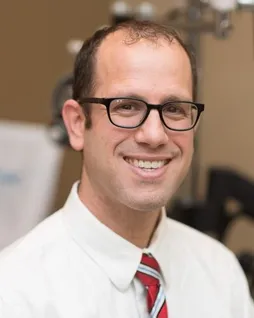 Dr. Timothy H. Blankenbeker, O.D. joined Michiana Eye Center in 2018. With a diverse background in both Optometry and Kinesiology, Dr. Blankenbeker is happy to offer patients advice on pursuing total-body wellness, in addition to ocular health. He specializes in primary eye care and the diagnosis, treatment, and management of ocular surface disease including dry eye disorders and meibomian gland disorder.
---
Education:
1996 – Bachelor of Science in Kinesiology,
Indiana University – Bloomington, IN
2007 – Doctor of Optometry,
Southern College of Optometry – Memphis, Tennessee
---
Clinical Experience:
Ossip Optometry – South Bend, IN
Bloomington Hospital – Bloomington, IN
---
Personal Experience:
In 3rd grade, Dr. Blankenbeker received his first pair of eyeglasses. He was amazed at how much more detailed the world became when he looked through the frames for the very first time. Blades of grass, the veins of fall leaves, and the shimmer of stars all seemed vivid and defined. He remembers with fondness the smile that his childhood Optometrist was able to bring to his face, and now, as an Optometrist himself, he hopes to bring that very same joy and appreciation to his own patients.