Dry eye relief starts with the exam.
At Michiana Eye Center, we've carefully tailored your dry eye exam to identify the root cause of your discomfort. To start the exam, patients are handed a questionnaire which focuses on the severity and frequency of your symptoms. An elevated result can indicate that you may be suffering from chronic dry eye disease. Your doctor will sit down with you to discuss the history and severity of your symptoms.
---
Advanced Diagnostics
The doctors at Michiana Eye Center have a variety of advanced diagnostic tests at their disposal, including Tearlab Osmolarity, Meibography and a variety of staining techniques to evaluate and manage your disease.
Testing can result in error. In order to get the most accurate readings, we ask that all patients:
- stop all drops two hours before their dry eye appointment
- do not wear any cosmetics to your dry eye examination
- stop all contact wear four hours prior to examination
- do not use any ocular ointments or gels the night before a dry eye exam
---
Osmolarity Testing
All of our five locations are Clinical Laboratory Improvement Amendments (CLIA) certified to preform TearLab Osmolarity testing to measure the salt concentration of your tears. Using a quantitative scale, our doctors can diagnose the severity of your dry eye. An elevated reading or variability between the eyes can indicate ocular surface disease and help our doctors develop an appropriate treatment plan.
---
Slit Lamp Examination
The slit lamp examination is arguably the most important aspect of the dry eye exam. During this time, your doctor will observe and evaluate the cornea of the eye and use techniques such as:
- Evaluation of meibomian gland health and function
- Observation of tear breakup time
- Corneal staining with lissamine green or sodium fluorescein dye
---
Meibography

When your chronic dry eye symptoms are related to Meibomian gland dysfunction (MGD), your doctor can monitor and document your progress using advanced infrared imaging technology. By so doing, your doctors can determine any obstructed or missing glands. At Michiana Eye Center we have two state-of-the-art instruments dedicated to this: the LipiView II and the Oculus Keratograph 5M.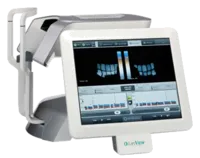 The LipiView II is a multi-tool device that allows our doctors to fully examine your blink rate, lipid layer and meibomian glands. Along with focusing on a patient's meibography, the LipiView II also analyzes for any incomplete blinks from our patients, signaling that the lipid layer of your tears is not being properly distributed. Using color maps the LipiView II also allows doctors to see the quality of the lipid layers being produced.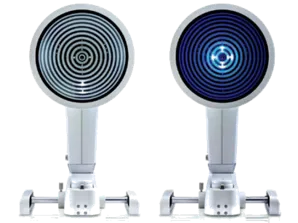 The Oculus Keratograph® 5M is a combination instrument that uses multi-spectrum light to measure the severity of MGD using empirical observations. The Oculus also allows our doctors to monitor your NIK-TBUT (Non-Invasive Keratograph Tear Break-Up Time). Breaking your cornea into sections, doctors can pinpoint exactly where your tears begin to evaporate off the ocular surface.
Applying the same pressure as a complete blink, the Korb Meibomian Gland Evaluator allows doctors to assess the function of your meibomian glands.
---
Tailored Treatment
Your physician will prescribe a treatment plan that is as unique as you. We understand that simply diagnosing your disease does not offer you the treatment and relief that you demand. Unlike other groups, Michiana Eye Center offers many in-office and at-home treatments.
---
---