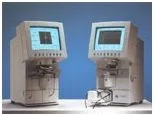 The doctors and staff of Michiana Eye Center are dedicated to providing our patients with premier service and quality in every facet of their experience. That's why we have invested in a state-of-the-art optical laboratory, located inside our Mishawaka office. Our laboratory technicians can custom-manufacture many lenses, ensuring that your glasses are not only quality made, but received in a timely manner.
1) Quality Control = Accurate Prescription
We complete the entire process of an eyeglasses order. From our opticians assisting with frame and lens selection, to our lab technicians who fabricate your eyewear, we ensure that your lenses are 100% identical to the doctor's prescription, that the lenses correctly match your frame, and that the lenses chosen meet/exceed our doctor's standards.
2) Reduced Manufacturing Time = Greater Convenience
We stock thousands of lenses in our on-site laboratory, so we often begin fabricating your new eyeglasses the same day. When eyeglasses emergencies occur, we're able to get our patients replacement glasses in a matter of hours.
3) New Lenses Only = Cost Savings & Convenience
If you want to place a new prescription in your current frame, most optical shops require you to leave your frame so it can be mailed to their outside laboratory. At Michiana Eye Center, your new prescription is fabricated by our lab without your need to drop off your eyeglasses. When your lenses are ready, simply schedule an appointment with our lab technicians to insert your new prescription into your existing frames.
State-of-the-art equipment
Our on-site laboratory is equipped with the latest in technology and automation. We're able to manufacture virtually any lens, any prescription. The process usually consists of two distinct elements.
1) Surfacing
Our technicians begin with a semi-finished lens blank, uses the computer to calculate the proper curvature required on the back surface, places the lens blanks in the generator to grind the curves, and then uses a cylinder machine to fine and polish the lens.
2) Finishing
Once the exact prescription is ground into the lens blanks, our technicians use a frame tracer to precisely measure the size and shape of the frame eye wire. This data is then electronically transferred to the edger, which will cut the lenses to the exact size and shape to fit perfectly in your frame.