Intense Pulsed Light (IPL) is a light-based therapy where light pulses penetrate the skin and generate heat in the dermal layer, melting the gland secretions and opening meibomian glands. Patients feel a warm sensation on their skin but not pain. Immediately after treatment the glands can be expressed while still warm.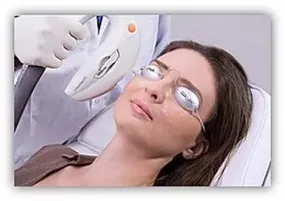 Patients will begin noticing an improvement in their symptoms after the second or third treatment. Four treatments are recommended, 2-3 weeks apart, and then twice a year for maintenance.
With each IPL treatment, we are able to utilize thermal technology to help remove blockages from the meibomian glands and photomodulate the major source for inflammation, telangiectatic blood vessels . By doing this we are able to help the body restore it's natural oil flow to the tear film.
Studies have shown that by reducing inflammation, each IPL treatment achieves a significant improvement in meibomian gland function leading to an improvement in patient's symptoms.
You can learn more about IPL here
---